August 8, 2022
Benefits of having Application Delivery Controller
What is ADC?  
Application delivery controllers (ADCs) are hardware and software applications that enable businesses to perform enterprise-scale services. These are placed in front of application servers and behind firewalls to speed data transmission and reduce traffic and scalability.
It allows businesses to enhance their security and performance by resolving issues such as large-scale handling of data transactions and delays, protecting web servers and tolerating faults.
How application delivery controllers work?
Application delivery controllers (ADCs) act as load balancers handling a high volume of traffic flow to the servers. It allows optimizing the performance of the end-user and streamline application deployment along with accelerating applications and securing them.
Here is a brief insight into how the ADCs work. Read below:
ADCs employ load balancing, application caching, compression, classification and reverse caching techniques to enhance the acceleration of business applications. With this, they assist in determining the security requirements as a critical point to control for multiple servers.
Balancing loads: The application distributes incoming requests across multiple servers. Later, the algorithms determine the server capacity and type of content required and identify client location
Caching: The content is locally stored on the ADC to speed the delivery and reduce the server load
Compression: It increases the network capacity and delivery speed by compressing large files like music, video and image files
Offloading SSL processing:  The ADCs later replace the backend servers as the SSL endpoint related to client connection. It encrypts and decryption of servers to speed content delivery, preventing overloading.
Benefits of Application Delivery Controller
ADCs are networking devices that act as a proxy for application servers and micro servers to ensure real-time and complete visibility into application traffic with control. Let us look through the benefits of application delivery controllers.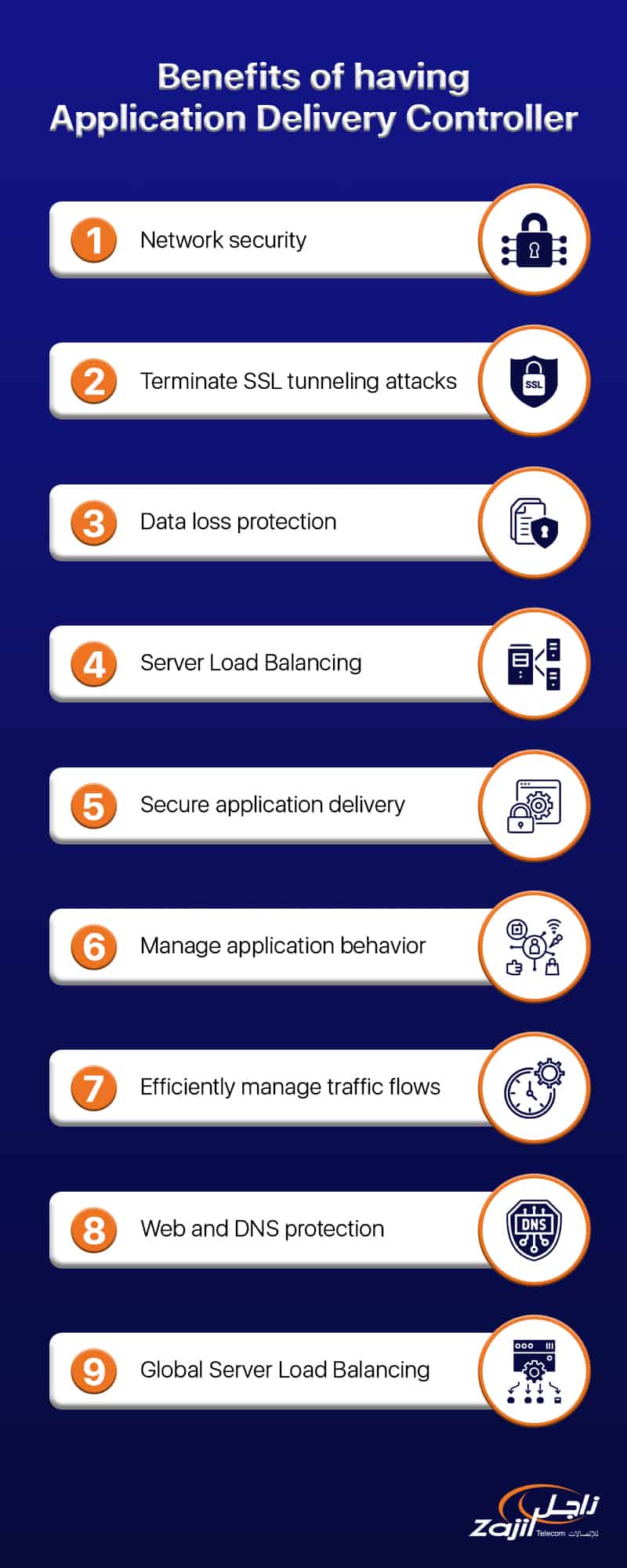 1. Network security
ADC applications act as a first-line defense to control any DDoS (distributed denial of service) attacks. They are designed to manage large-scale DDoS attack traffic and prevent it from flooding the servers. In addition, it validates the user's identity using an on-premise active directory data store to reduce the need for storing credentials in the cloud.
Herein it uses techniques such as firewall load balancing, intrusion prevention, detection and web application firewalls (WAFs) to ensure complete network security.
2. Terminate SSL tunneling attacks
ADCs protect DNS servers to stop the continuous and sudden influx of traffic to the servers, thereby terminating SSL tunneling attacks. 
3. Data loss protection
Application delivery control benefits by acting as a protective wall to prevent the loss of sensitive data. Web Application Firewalls (WAFs) stop cross-site scripting or XSS, overruns, malformed HTTP packet attacks, SQL injection etc. In addition, they disrupt the SQL or Structured Query Language to eliminate cookie poisoning and thereby protect unauthorized access to sensitive data or its loss.
4. Server Load Balancing
ADCs utilize predefined algorithms for routing income requests across multiple servers. It includes simple and advanced servers that weights factors such as HTTP header fields, server capacity, location, and content requests.
It balances server loads by redirecting the traffic to different server clusters at various data centers. Herein, it helps reduce latency by supporting business continuity during server shutdowns.
5. Secure application delivery
ADC application firewalls inspect data packet headers to identify malicious content scripts. It helps detect any unwarranted attack on applications with layer 7 protection, even the suspicious content which may go undetected by the network firewall.
6. Manage application behavior
Benefits of ADCs are not limited to load balancing alone. It aids in providing holistic visibility across multiple cloud servers. Furthermore, it enables businesses to manage and monitor the application behavior and its security, thereby increasing performance.
7. Efficiently manage traffic flows (Traffic Optimizations)
ADCs (Application delivery controllers) help improve the overall load through efficient traffic optimization. It reduces the overhead cost associated with assembling and server responses in the form of application requests. It offloads compute-intensive processes such as TCP/ IP connection management and SSL. Besides, it enhances the use of resources such as CPU, RAM, and I/O on each server.
8. Web and DNS protection
Another benefit of ADCs is that it protects web and DNS by balancing DNS loads. DNS servers play an integral role in balancing load systems to DNS failover and performance enhancement. It assists in detecting failed DNS servers by eliminating them from the service roster. Furthermore, it helps secure services and ensures compliance through an integrated security system like CAPTCHA, sign-on, DDoS protection, and web and DNS firewalls.
9. Global Server Load Balancing (GSLB)
GSLB assists in balancing the load across various data centers. It helps to direct client requests to the most available data center to distribute traffic across servers distributed across geographies and speed business continuity.
Conclusion 
With a large amount of information transferred through the internet, it is integral to ensure the protection and security of networks from unwarranted attacks. Application Delivery Controllers (ADCs) are the backbone of IT infrastructure that help determine the security needs for applications and provide authentication, authorization and accounting by forming a layer between the firewall and application servers.
Zajil's A10 Thunder Application Delivery Controller provides better data flow and protects your web and enterprise application servers. It aligns the enterprise service through its high load balancing to upgrading application delivery, network latency and enhancing application security.