Managed SD-WAN Service Provider
A Software-defined Wide Area Network (SD-WAN) is a virtual WAN architecture that allows enterprises to leverage any combination of transport services—including MPLS, LTE and broadband internet services—to securely connect users to applications.
An  SD-WAN service provider uses a centralized control function to securely and intelligently direct traffic across the WAN and directly to trusted SaaS and IaaS providers. This increases application performance and delivers a high-quality user experience, which increases business productivity and agility and reduces IT costs.
Why SD-WAN :
When it comes to application performance, backhauling traffic destined to the cloud from branch offices and head offices create latency
Backhauling all traffic including the traffic destined to the cloud, from branch offices to head offices create latency, disrupting the application performance. SD-WAN services offer a simpler approach with higher bandwidth efficiency and faster performance while ensuring data security and maintaining privacy.
Before the emergence of SD-WAN technology users had to be connected to a data center to access any business application. With the advent of cloud services, the process has become much more responsive and flexible, negating any need for traditional WAN. 
SD-WAN also allows centralized management – a dynamic path selection is initiated for an application according to its urgency. Irrespective of the application's location, it can be managed by the centralized management pane. This makes tracking the application and its performance simpler.
When compared to alternatives, SD-WAN is strikingly cost-efficient. It reduces expenses by issuing multi-point networking. The designated private data traffic exchange and control points provide the users with local access to services required. Access to the cloud as well as internet services are also secured simultaneously.
Here's a glimpse of the advantages:
Simplify WAN Operations
Zero-touch provisioning in minutes.
WANs managed from the cloud: global visibility, remediation control.
Fast scale: automation, outcome-driven policies, end-to-end analytics.
Assure Application Performance
Optimize app performance over any WAN link. 
Deliver content across multiple transports.
Policy-based prioritization, intelligent traffic steering, continuous link monitoring, dynamic remediation for business-critical apps.
Ease of Cloud Adoption
Directly access SaaS, hybrid, multi-cloud through gateway as-a-service.
Easy cloud adoption with managed on-ramp to any cloud. 
Reduce latency to cloud workloads – no data center backhaul.
Customizability in Edge Security
Customize, enforce intelligent security policies across network. 
Easily insert third-party firewall, cloud security services in any traffic route. 
Protect, prioritize, isolate traffic via zero-trust, end-to-end segmentation..
New Business Challenges in Cloud Era: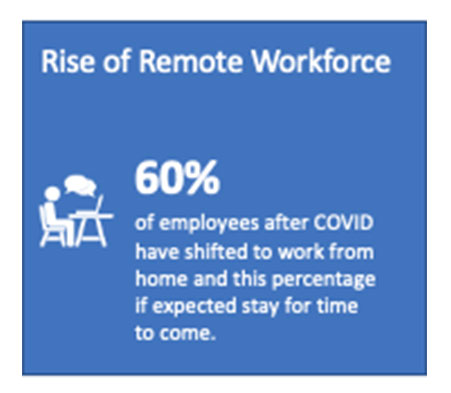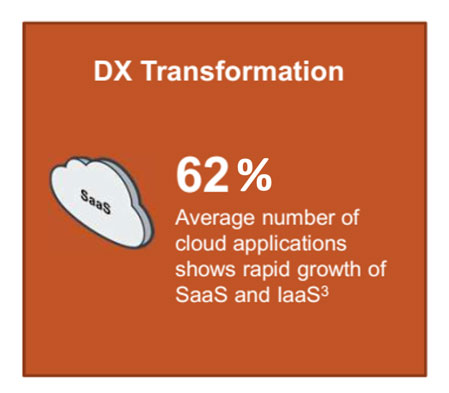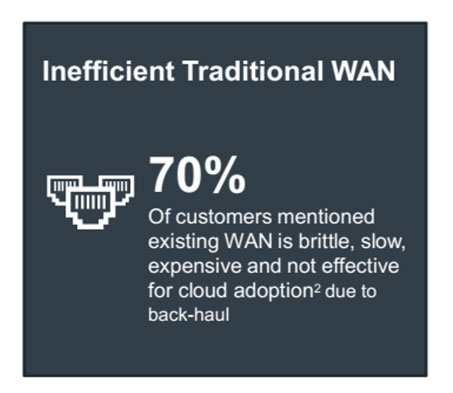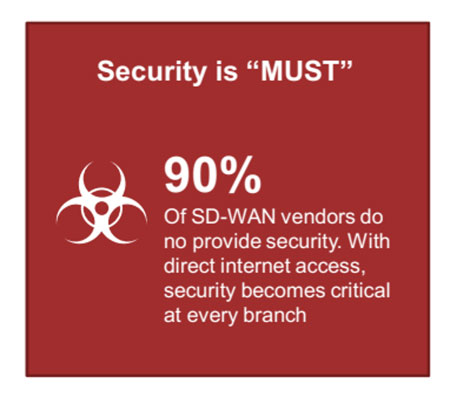 Key Features of Zajil's Managed SD-WAN Services:
The secure access service edge (SASE) platform that converges cloud networking and cloud security service to deliver flexibility, agility, and scale for enterprises of all sizes.
Instant ROI Benefits

– MPLS technology isn't just outdated, it is also expensive when the total cost of ownership is considered

Better Application Experience

– SD-WAN allows remote sites to connect more easily to networks and/or multiple clouds, lower latency, real time analytics, visibility and control

Right Security, Right Place

– Comprehensive security between users & applications

Simplicity

– Centralized management, visibility and control

Secure Automated WAN

– Self-healing, resilient network and automation
Zajil is one of the most prominent SD-WAN Providers in Kuwait, providing internet and communications technologies to leading enterprises for over 30 years in the Middle East and North Africa (MENA) region. Always evolving and learning, our services are improving by the day to better suit the needs of modern organizations.